The second edition of the festival took place from the 28th to the 30th of October in Ormož, Slovenia. Award winners of the 2nd Grossmann Fantasy, Sci-Fi and Comics Festival are Miodrag Mikica Ivanović and Dušan Kastelic who both received their Honorary Vicious Cats for outstanding contribution to comic book art, and Aleksandar Žiljak who received the Honorary Vicious Cat for outstanding contribution to science fiction and fantasy.
MIODRAG "MIKICA" IVANOVIĆ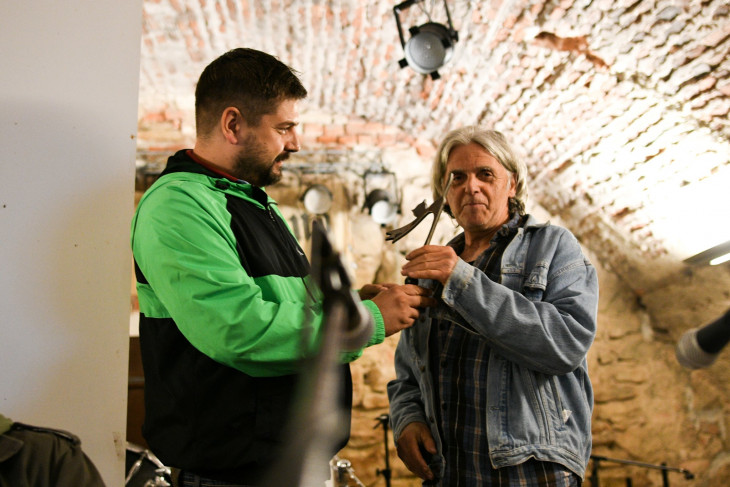 Only a few comic book artist can boast with a such an immense body of work as Miodrag Mikica Ivanović, who started drawing his first panels in 1974. In 1982, he started working on licensed comic "Veliki Blek" for Dnevnik from Novi Sad. He made eleven episodes, nine of which were published, while two were lost and unpublished due to the breakup of Yugoslavia and the situation which it caused. Simultaneously with "Veliki Blek", he also made short western stories as extra comics in legendary editions "Zlatna serija" and "Lunov Magnus Strip", for which he also drew more than 100 covers. He also worked on the "Mad Max" comic for Dnevnik. Since 1986, he was also working on "Ninja", at that time very popular comic that was published by "Dečje Novine" in the "Eks Almanah" magazine. He made more than 25 episodes of this comic, along with numerous covers for the aforementioned magazine. Based on his work until then, he got an opportunity to work on licenced comic "Tarzan" for Novi Sad-based Forum/Marketprint in 1989. At the end of the 1980s, he was also working on horror comics for German market.
At this year's festival, we are proudly giving him the Honorary Vicious Cat Award for outstanding contribution to comic book art.
DUŠAN KASTELIC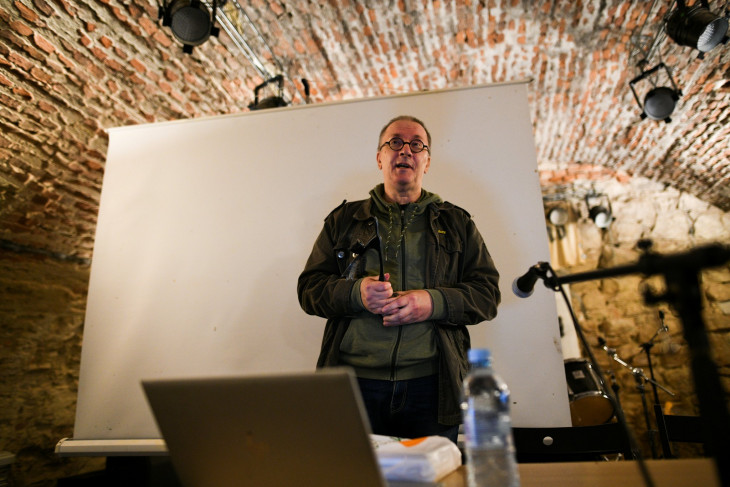 Dušan Kastelic belong to the very top of Slovenian comic book artists. His first comics were published while he was in high school. By the time he studied at the Education Academy, he was already making a living with illustration. In 1992, he dedicated himself full-time to comics and illustration. In the following years, he published in all high-profile Slovenian magazines, mostly in Mladina, where they also published longer comics "Partizani" and "Afera JBTZ" that received a lot of attention. Later, he developed an interest in new media and animated films, so he founded the BugBrain Institute for Animation, where he started making animated films and computer games with his collaborators. He is one of the pioneers of computer animation. His films, such as "The Box", "Perk" and "Chicory 'n' Coffee" were screened at more than 300 international festivals and have received over 100 awards at home and abroad. In 2019, he received the Prešeren Fund Award.
At this year's festival, we are proudly adding our Honorary Vicious Cat Award for outstanding contribution to comic book art to all of the aforementioned awards.
.
ALEKSANDAR ŽILJAK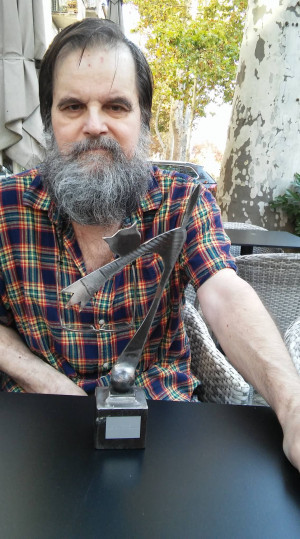 Aleksandar Žiljak is one of the most prominent, successful and prolific writers, illustrators, translators, editors, historians and promoters of SF and fantasy in Croatia. For decades, he has been an inevitable milestone of Croatian, Central European and global speculative fiction. His works are recognized even outside his circle of fans and are among the few that manage to jump over the high wall which separates its ways from the institutionally recognized literary field.
He published several short story collections (Slijepe ptice, 2003; Božja vučica, 2010; Knjiga beštija, 2013; Tajna grimiznog mora, 2014), four novels (Irbis, 2012; Poseidonia, 2014; Zagonetka Zmajskih otoka, 2015; Ndanabova djeca, 2018) and one book on cryptozoology from the realm of popular science (Kriptozoologija – svijet zagonetnih životinja, 2004). His stories and novels have been published in Germany, Denmark, France, Italy, Argentina, Greece, Serbia, PR of China, Poland, Spain, Bulgaria, Romania, Bosnia and Herzegovina, as well as in USA, where his story was also included in the world SF anthology The Apex Book of World SF. He also wrote two screenplays, one in collaboration with Dušan Vukotić. With Tomislav Šakić, Žiljak edited milestone anthology of Croatian SF short story Ad Astra (2006) and continues to be editor of literary magazine UBIQ that was in 2011 declared the best European SF magazine. His latest book is Zvijezde u noći, a collection of lectures on fantastic film, including the one about Aelita from 2019 that was very well received by the audience in Ormož. Žiljak won Croatian national SF prize SFERA nine times and is also known for his many translations, among which those of essays and books by Darko Suvin and Thomas Disch are of particular importance.
Due to all of this, as well as life, dedicated to the genre and the support that he gave us at the beginning of our festival, we are proudly giving him the Honorary Vicious Cat for outstanding contribution to science fiction and fantasy.