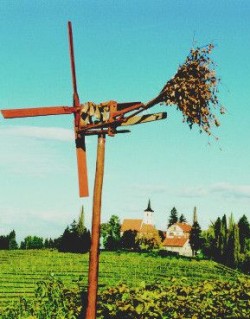 After a long cinematic journey, the land of vicious cat offers -just for you- something entirely different from sturdy seats in the cinema. Just a few kilometers away from the festival site is where the wine-growing region of Prlekija spreads. It is a unique environment, where friendly local people are more than happy to reveal to you some scripts for hilarious comedies as you've never seen or heard before, all of that accompanied by most delicious of wines and local foods. The hilltops, all neatly covered with vine and wine cellars, provide astounding panoramas of the Panonian plane, which is just made for the admirers of an extraordinary genre. In this movie of Pomurje region, one of the biggest stars is Jeruzalem, in all of its idyllic calm, where time ceases to exist if you only allow it. An unforgettable role is also played by the river Mura that guides you with its discrete power to the Island of love, where you can get acquainted with cultural and natural heritage of mysterious Pomurje.
No, this is no corny sugarcoated flick, it's just the domain of the old charmer, vicious cat!
Let yourself be enchanted by the land under the fierce cat's protection, and all wishes to inhabit another cinematic universe will dissapear...
HOW TO REACH THE LAND OF VICIOUS CAT?
BY CAR
If a shiny hotrod is your vehicle of choice, this is how far you have to travel to Ljutomer:
London 2000 km, Graz 105 km, Klagenfurt 170 km, Vienna 260 km, Linz 350 km, Salzburg 380 km, Insbruck 650 km, Munich 500 km, Berlin 500 km, Ljubljana 150 km, Zagreb 120 km, Babinsko otočje 2 km.
BY PLANE
Nearest international airports:
Maribor (50 km), www.maribor-airport.si
Gradec (105 km) www.flughafen-graz.at
Zagreb (120 km) www.zagreb-airport.hr
Ljubljana (150 km) www.lju-airport.si

Some pocket-friendly airlines:
www.ryanair.com,
www.adria-airways.com,
www.aua.com,
www.easyjet.com
www.19.germanwings.com
www.hlx.com
BY TRAIN
If you arrive to Ljutomer by train, you're in a very favourable position, as Ljutomer has not one but two train stations! If you leave the train on station Ljutomer Mesto, you're just a few minutes of walking away from festival site. Tracks are namely very well connected to the city. For detailed information visit site of Slovenian Railways: www.slo-zeleznice.si or try the international train schedule which can be found here.
LODGING/ACCOMMODATION
A night's stay with breakfast in Ljutomer, or in the winegrowing hills nearby, will cost you only 20 to 30 Euro.

Tourist Vinecultural Farm Hlebec https://hlebec-kog.com
Jeruzalem Mansion https://dvorec-jeruzalem.si
Beekeping and Tourist Farm Šalamun www.salamun.si
Tourist Farm Dervarič www.turisticna-kmetija-dervaric.com
Guest House Stari hrast (Old Oak) www.starihrast.com
The Sun House www.soncna-hisa.si
Vacation Home Silva www.apartmaji-silva.com
Eco Hostel Križevci www.eko-hostel.si
Ecological Tourist Farm Vrbnjak www.turisticna-kmetija-vrbnjak.si
Apartma Kog www.booking.com/hotel/si/pocitniska-hisa-kog.en
Holiday House Podhamer with Wellness https://podhamer.si/
House of Massage, Križevci 30a, Križevci pri Ljutomeru (phone no. 0590 88 676)
MCP-PC NVO, so.p., Sp. Kamenščak 23, 9240 Ljutomer (phone no. 031 525 367; 031 212 393)
Balkan Campers https://balkancampers.com
List of additional accomodations can be found here:
https://www.prlekija-on.net/turizem-v-prlekiji/89/prenocisca.html

During the festival there will also be camping sites available.

For individual transports there are taxi services available:
TAXI Danilo Hlebec s.p.
GSM 031 470 836
MAP